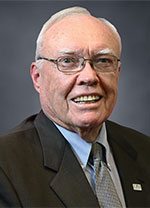 Cary, NC
Inducted: 2015
Dr. Preston Sasser, a man whom peers refer to as "a professional of the highest order," made numerous contributions to the cotton industry over his thirty-year tenure at Cotton Incorporated. Acknowledged as one of the cotton industry's leading research experts, Sasser's contributions were instrumental in solving a wide range of cotton problems, from health issues to developing cotton-testing technology.
Sasser was a member of the engineering team that created what eventually became known as High Volume Instrument (HVI) testing; led an extensive program of investigative research covering issues relating to worker exposure to cotton dust; and served on the in-house team that designed and built Cotton Incorporated's World Headquarters and research facility in Cary, NC.
Dr. Sasser discusses his natural curiosity and aptitude for science and mechanics.