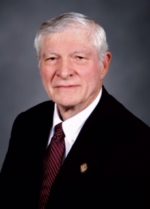 Dell, AR
Inducted: 2013
Dr. Harold L. "Hal" Lewis (deceased) had a lifelong dedication to agriculture and research, notably in the cotton industry. As Director of Research for Cotton Incorporated (1970-1973), Dr. Lewis was instrumental in the development of the module builder and played a key role in the research program for boll weevil eradication. His experience and knowledge as a plant breeder led him to develop three commercial cotton varieties.
Dr. Lewis served as a board member for both the National Cotton Council and the Cotton Board, and was inducted into the Arkansas Agricultural Hall of Fame in 2006. Before his death, he also served as president and general manager of his own business, Scientific Seed Co. and H.L. Lewis Farm and Enterprises.
Bradshaw Lewis describes the many gifts his Dad possessed.