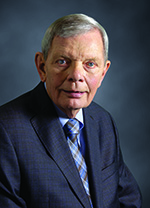 Raleigh, NC
Inducted: 2018
Charles H. Chewning was instrumental in helping Cotton Incorporated create and deploy the Engineered Fiber Selection® (EFS®) System around the world. The system, which was a precursor to blockchain, is a complete bale management system designed to assist textile mills and cotton shippers; and it improves profits, efficiencies, and quality.
After graduating from Wofford College, Mr. Chewning served in the U.S. Army for six years where he rose to the rank of Captain. He joined Cotton Incorporated in 1973 as a Fiber Processing Engineer and later became Vice President of the Fiber Management Research Division and the EFS® Marketing Division. During his time at Cotton Incorporated, he also directed the establishment of a state-of-the-art Fiber Processing Center.
Mr. Chewning discusses the history of the EFS® System and how it is still being used today.