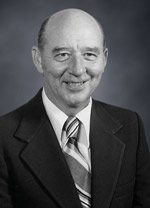 College Station, TX
Inducted: 2014
Professor Lambert Wilkes of College Station, Texas, passed in April of 2013, but left an indelible mark on the U.S. cotton industry. Wilkes is honored for the work that he and his team at Texas A&M University did in developing the cotton module builder, which some have said was the most significant advancement in cotton efficiency since Eli Whitney introduced the cotton gin.
In 2000, the state of Texas acknowledged the module builder as one of the four most significant economic achievements of the 1970s, which also included the opening of Dallas/Fort Worth Airport and the launch of Southwest Airlines.
Stella Wilkes reminisces about her late husband and his work.