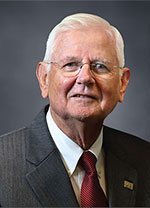 Laurinburg, NC
Inducted: 2015
North Carolina cotton grower David Burns is an acknowledged leader in the cotton industry. Burns served as Cotton Board Chairman during the integration of importers into the Cotton Research and Promotion Program. Burns' leadership fostered an easy assimilation of importers onto the Board and maintained a focus on the common goals of the dual constituency.
Burns also served as President, Cotton Council International. Burns is noted for his stewardship at a transitional period in the history of U.S. cotton. At a time when the U.S. textile industry was in decline, Burns and the cotton leadership realized the importance of U.S. cotton as an export to emerging textile hubs around the world, and the vital role importers and growers alike would play in the evolution of U.S. cotton consumption around the world.
Burns provides his perspective on the genetic clockwork of cotton.