Power of the Seal
The Seal of Cotton is a recognized and trusted trademark.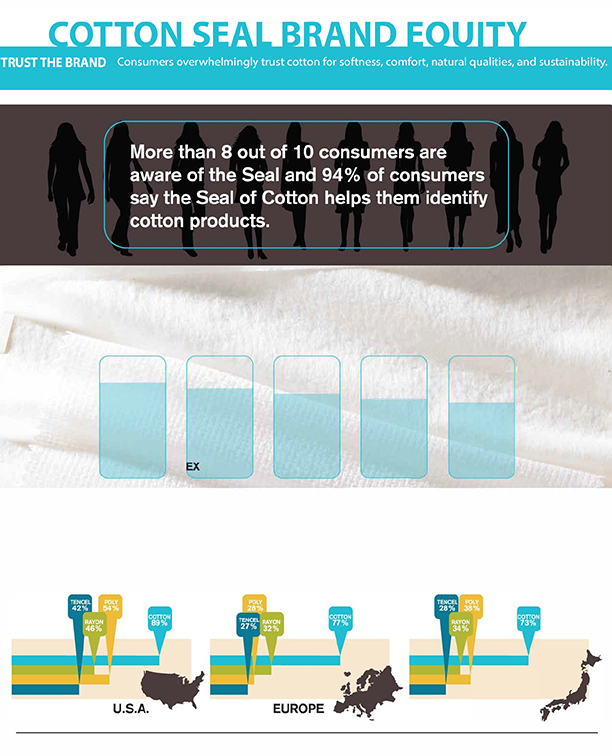 BRAND IMPACT
More than 3 in 4 consumers say brands using the Seal of Cotton help them make
an informed purchase decision, make the shopping experience easier, care more
about
the quality of their products, are more trus

tworthy

and

more

authentic.
86%
8
4
%
82%
79
%
80%
PURCHASE
DECISION
EASIER
PERIENCE
QUALITY
PRODUCTS
MORE
TRUST
MORE
AUTHENTIC
RIGHT FOR THE
ENVIRONMENT
T
he world's view of products that are good or safe for the

environment

is

a gl

obal
concern.
Below are percentages of consumer's trust

level

of environmental safety

of
four
fabrics: cotton, Tencel, rayon, and polyester in the

U.S.A.,

Europe and

Japan.
Cotton lncorporated's 2015 U.S., Chinese, Mexican, & European Feminine Hygiene Studies
PAYING A PREMIUM
About 6 in 10 women in Mexico (76%), the U.S. (57%), and Europe (56%) say they are willing
to pay a premium for feminine hygiene products that display the Seal of Cotton.
PURCHASE IMPACT
The majority of women in Mexico (91%), the U.S. (71%), Europe (63%), and China (52%) say
the Seal of Cotton would influence their feminine hygiene purchase decisions.
MORE THAN 3 IN 4 WOMEN IN THE US, EUROPE AND MEXICO
SAY THE SEAL OF COTTON REPRESENTS:
80%-
60%
-
20%
-
Cotton
lncorporated's 2015 U.S.,

Chinese,

Mexican,

& European

Feminine

Hygiene

Studies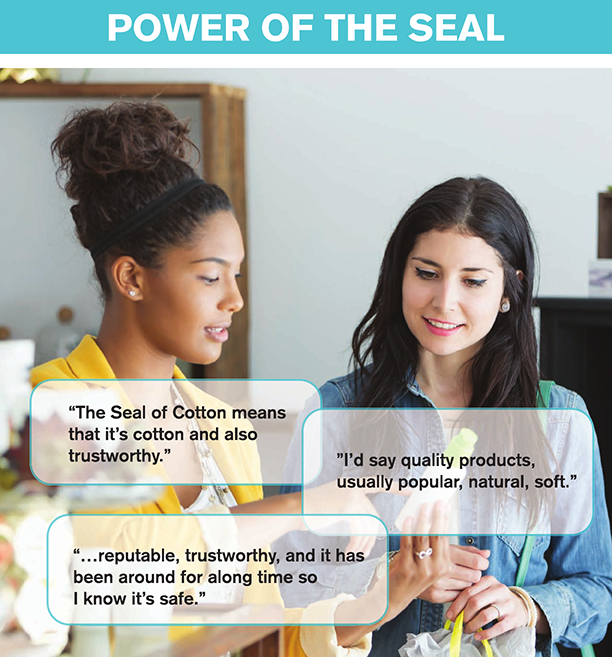 2016