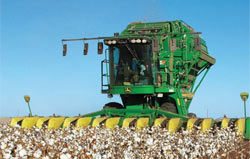 Stripper-type harvesters were developed as a cost-effective alternative to hand pulling for harvesting cotton with short plant heights, relatively low yield, and closed or "stormproof" bolls. Limited growing-season rainfall and irrigation capacity, along with harsh weather conditions on the Southern High Plains, tend to produce crops with these problems. That's why cotton producers in this region have widely adopted the stripper harvester.
Over the years, the agriculture industry has developed production and preharvest practices to help producers get the most out of stripper-harvested crops.
Harvest aid chemicals help to drop leaves, open bolls, and desiccate plants, facilitating earlier stripper harvesting, higher yields and improved lint quality.
Proper row unit maintenance and adjustment to cotton stripper harvesters are critical to maximizing harvest efficiency and preserving fiber quality.
Daily maintenance of stripper harvesters is critical to ensuring worker safety, maintaining productivity, and prolonging machine life.
The presence of immature fiber from bolls in stripped cotton can influence fiber quality, fiber length, strength, and color grade.
Information about basic guidelines and recommendations for maintaining, configuring, and operating stripper-type cotton harvesters.