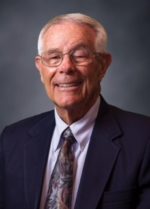 Hilltop Lakes, TX
Inducted: 2017
Dr. William M. "Bill" Lyle has had a revolutionary impact on the cotton industry with the research and development of the Low Energy Precision Application (LEPA) system in the 1980s. His contributions as a cotton farmer, agricultural engineer, and scientist are recognized both nationally and internationally.
Dr. Lyle has served as a consultant to the United States Congress, John Deere and Company, and the American Society of Agricultural Engineers Water Supply and Conveyance Committee. He has also been the recipient of the John Deere Gold Medal Award (1998), the High Plains Research Foundation's Agricultural Research Scientist of the Year Award (1981), the Texas Association of Agricultural Consultant Public Servant of the Year Award (1992), and the Secretary of Agriculture Group Research and Extension Award (1994), among others.
Dr. Lyle talks about how he decided to design a mechanism to conserve water.