Cotton Marketing Planner
Department of Agricultural Economics, Texas A&M University
Cotton Market Update for the Week Ending Friday, February 8, 2019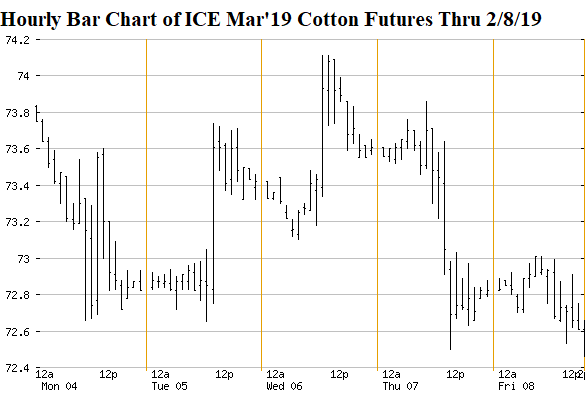 The week ending Friday February 8, 2019 saw ICE cotton futures slide Monday, stair-step higher by mid-week, slide again on Thursday , and slip a little more by week's end. High volume fund rolling was an influence on cotton futures trading this week. Fundamentally, a long awaited WASDE report on Friday showed neutral U.S. adjustments and somewhat bearish foreign adjustments, albeit over a two month period. The continuing release of decent export sales data (reflecting late December) might have been price supportive if it reflected the normal one week lag, but, but showed no market supporting effect this week.
The Mar'19 contract settled on Friday at 72.55 while the Jul'19 and Dec'19 contracts settled the week at 75.01 and 73.93 cents per pound, respectively. Chinese prices were mostly missing on holiday this week, while world cotton prices were mixed.
A sample of option premiums on ICE cotton futures saw slight changes associated with changes in the the underlying futures. An in-the-money 75 put on Dec'19 cotton settled Friday, February 8 at 4.83 cents per pound, while an out-of-the-money 68 put traded for 1.65 cents per pound. The large gains in at-the-money put options purchased last fall shows how put options provide a mechanism for down-side price insurance.
The last month provides another example of the ever present risk of unexpected market volatility. It can happen in both directions. For example, a more concrete resolution to U.S.-China trade relations, or another surprisingly large cut in U.S. production, or something else totally unexpected could trigger speculative buying. As always, the most relevant question is whether a cash contract or a hedge on today's futures price will be a profitable, or at least survivable, price floor.
Given all these uncertainties, growers should always be poised and ready to take advantage of rallies, and protect themselves from sudden sell-offs. Forward contracting of new crop bales, immediate post-harvest contracting of old crop bales, and/or various options strategies can be used to limit downside risk while retaining upside potential. Hedges with puts or put spreads on Mar'19 futures could have been employed as late as November to provide near term protection of old crop bales through the harvest season. Contracted 2018 bales could be combined with call options on the deferred futures contracts. Call option strategies have become increasingly affordable with the recent decline in the futures market. New crop put strategies to hedge the 2019 crop are a straightforward and relevant approach — especially if there is a rally in Dec'19 futures. So far there have not been much forward contracting business transacted for new crop bales, so hedging remains as one of the few available tools.
For further analysis and discussion of near term price behavior, click on the menu above entitled "Near Term Influences". Longer term price behavior is more influenced by fundamental supply and demand forces, which is discussed above under the "Market Fundamentals and Outlook" menu tab.