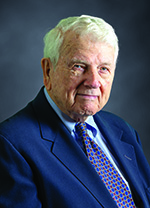 Gainesville, VA
Inducted: 2018
Jesse Moore is responsible for helping change the landscape of the cotton industry by taking the lead in establishing the High Volume Instrument (HVI) classification system while he was the Director of the Cotton Division of the USDA's Agricultural Marketing Service.
Mr. Moore was part of the industry since birth, having grown up on a cotton, peanut, and tobacco farm in South Georgia. He graduated with a degree in agriculture from the University of Georgia and then served in the U.S. Air Force for four years. His tireless efforts in the industry set a standard for not only U.S. cotton grading, but for the rest of the world.
Mr. Moore tells us about the origins and benefits of HVI Cotton Classing.