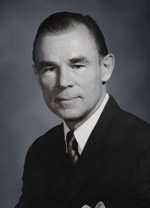 New York, NY
Inducted: 2014
J. Dukes Wooters, Jr., of New Canaan, CT, passed in January of 2015, but left an enduring legacy for the cotton industry. As the first president of Cotton Incorporated, Wooters was the first marketer to promote a commodity directly to consumers. Along with establishing the organizational structure and early activities of Cotton Incorporated, Wooters also introduced the Seal of Cotton as a brand icon for products containing cotton.
More than forty years after its introduction, the Seal of Cotton is among the most widely recognized American brand icons. Wooters is honored for his innovative marketing of cotton, his leadership in, and the enduring value of the Seal of Cotton.
Dukes Wooters tells how the Seal of Cotton came to be.