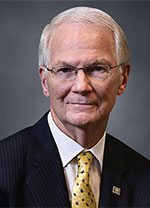 Aliceville, AL
Inducted: 2015
Hugh Summerville, a sixth-generation cotton farmer from Aliceville, AL, has a storied history of leadership within the cotton community. During his tenure as Cotton Incorporated Chairman, Summerville elevated the participation of the board of directors and fostered the strong relationship between the Cotton Board and Cotton Incorporated that still exists today.
Summerville was also a champion of the Cotton Incorporated World Headquarters and was one of the members of the exploratory committee charged with finding a new location for the Cotton Incorporated offices and laboratories. The decision to build a new Cotton Incorporated facility stemmed from a flood in the aftermath of Hurricane Fran in September 1996.
Summerville describes his respect for the people in the cotton industry.