Cotton Incorporated celebrates 50 years of the Seal of Cotton, an iconic symbol woven into life's moments.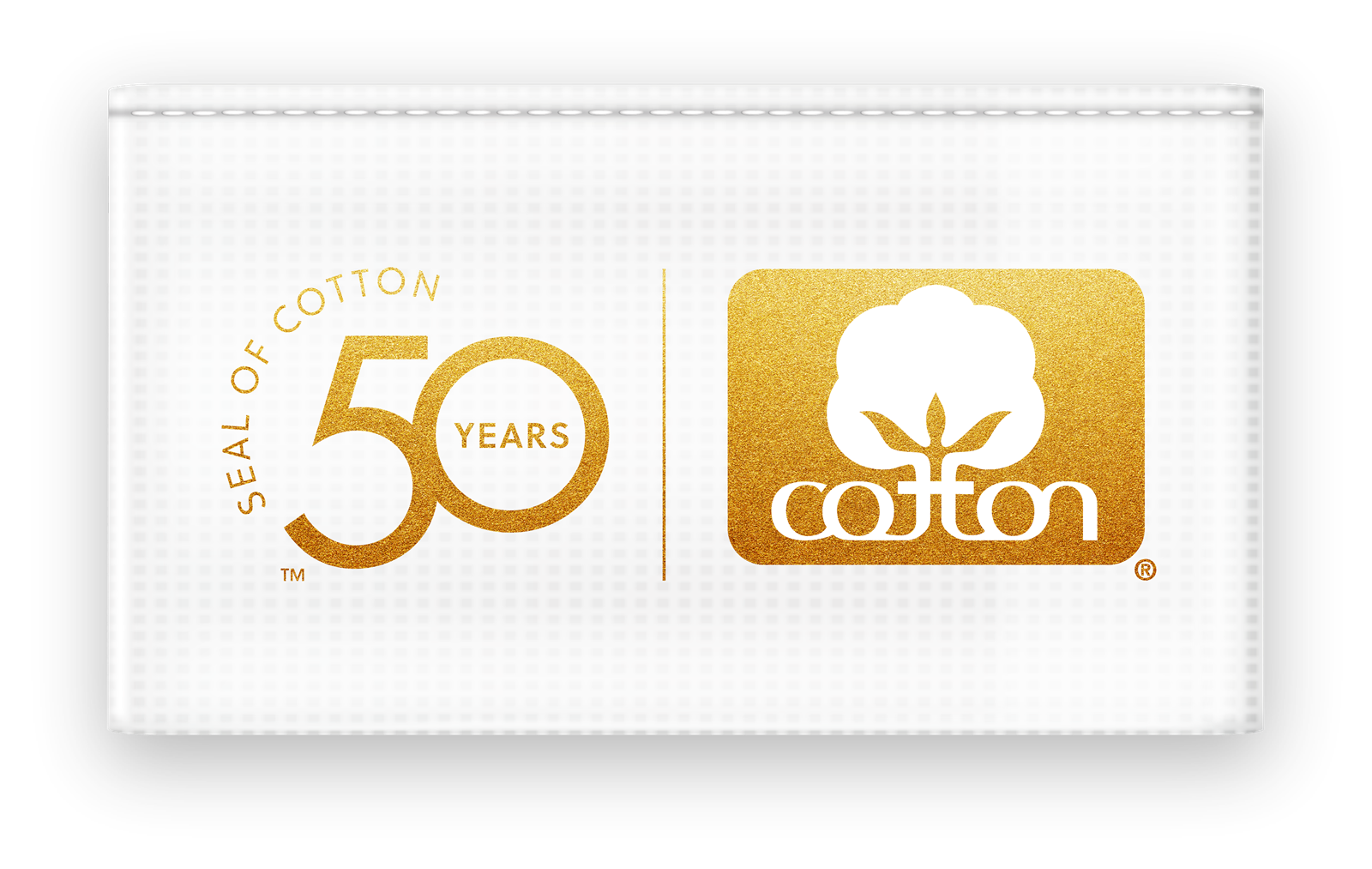 Cary, N.C. (July 12, 2023) – This year, Cotton Incorporated celebrates the 50th anniversary of the Seal of Cotton trademark, an iconic logo that transformed cotton from an agricultural commodity into a globally recognized symbol of natural comfort, trust, and sustainability. As the identifying mark and common thread for cotton, the Seal has become an icon for #MadeInCotton everywhere.
The Seal of Cotton was unveiled in 1973 as a symbol of trust, quality, sustainability and reliability to consumers, retailers, and textile brands. It was designed in 1973 by Susan Landor Keegin, daughter of Walter Landor who founded branding giant Landor Associates. Landor Keegin was inspired by seeing the cotton plant's rigid stem and soft boll growing in the fields, which led her to incorporate the natural elements of cotton by having the word appear as if it were growing from the roots. From there, the Seal of Cotton was born, allowing for easy recognition of the fiber and differentiation from synthetic fibers.
"The assignment was to find a way to stand up against synthetics," recalls Susan Landor Keegin of Landor Associates. "I was going to see relatives who lived in the area and saw cotton growing in the fields with the bolls puffed up. Something about seeing it in person, the rigidity of the stem and the softness of the boll, I had never seen that."
Today, the Seal of Cotton is used by over 950 brands in nearly 70 countries, becoming a global symbol associated with fashion, durability, quality, and sustainability. Nearly 8 in 10 consumers (78%) have awareness for the Seal, according to Cotton Incorporated's 2023 Seal of Cotton Consumer Research, allowing shoppers to make mindful purchasing decisions on a natural, sustainable fiber that's known and trusted. Over 80% of consumers say that they can rely on a brand and its product when it features the Seal of Cotton, while 90% prefer the fabric because of its comfort and versatility.
In today's retail environment, 46% of consumers in the United States are willing to pay more for a brand that they trust. The Seal of Cotton serves as a trusted resource by consumers, brands and retailers. When the Seal is used on a product, four out of five consumers believe that the brand is more trustworthy (79%), more authentic (80%), and one they would likely purchase (84%). This symbol has been easing the consumers' journey for the past 50 years and, when present on a product, shows that it is reliable, transparent and high-quality.
"The 50th anniversary of the Seal of Cotton is a celebration of a highly-recognizable icon that brings consumers a sense of emotional and physical comfort and familiarity," says, Kim Kitchings, senior vice president, consumer marketing for Cotton Incorporated. "Cotton has been woven throughout the eras of American culture and is part of monumental moments in each one of our lives. Fifty years of marketing and innovation has earned consumer affection, with over 90% stating that cotton is a preferred choice because of its comfort, softness, and versatility. We're proud that the Seal of Cotton garners more than two times the awareness of other fiber logos and is a favored fabric."
The Seal of Cotton has grown over the years and is a preferred choice by manufacturers, brands, and consumers. It has made its mark on history from the 1980's advertising campaign, "True Performance," which introduced the symbol on millions of retail garments, to the development for the Blue Jeans Go Green denim recycling program in 2006, designed to repurpose denim into new products while diverting textile waste from landfills.
"The REVOLVE customer looks to Cotton as a leader in sustainability and quality, and with the Seal of Cotton, they are promised comfort and versatility with every purchase," says Raissa Gerona, chief brand officer, REVOLVE. "We're so honored to have worked alongside Cotton and supported their efforts to introduce more green, sustainable practices within the fashion industry. Cheers to 50 years and what's to come!"
Cotton Incorporated celebrates the Seal of Cotton through the brand's latest ad campaign focusing on the power of nostalgia, reminding consumers how powerful memories and fashion styles over the decades have one common thread: cotton. The campaign runs on television, streaming services and through digital partners. Additionally, Cotton Incorporated developed an exclusive iteration of the Seal for the 50th anniversary and the celebration continues throughout the year with additional activities in the coming months.
To celebrate the Seal of Cotton's 50th anniversary, Cotton Incorporated is encouraging consumers to check the label for the Seal of Cotton on clothing or home good products, posting on social media with the hashtag #MadeinCotton. You can find more information on the anniversary and Seal of Cotton's history here.
About Cotton Incorporated:
Cotton Incorporated is the research and promotion company for upland cotton. Funded by U.S. cotton growers and importers of Upland cotton-containing products, the not-for-profit organization's mission is to increase the demand for and profitability of cotton. As a resource for the cotton industry, Cotton Incorporated conducts or oversees more than 450 research and educational projects in an average year. Research areas range from the development of agricultural and textile innovations to analyses of commodity and market data. For more information or to learn more, https://lifestylemonitor.cottoninc.com.