RESTech COTTON™ Technology Brings Suite of Innovations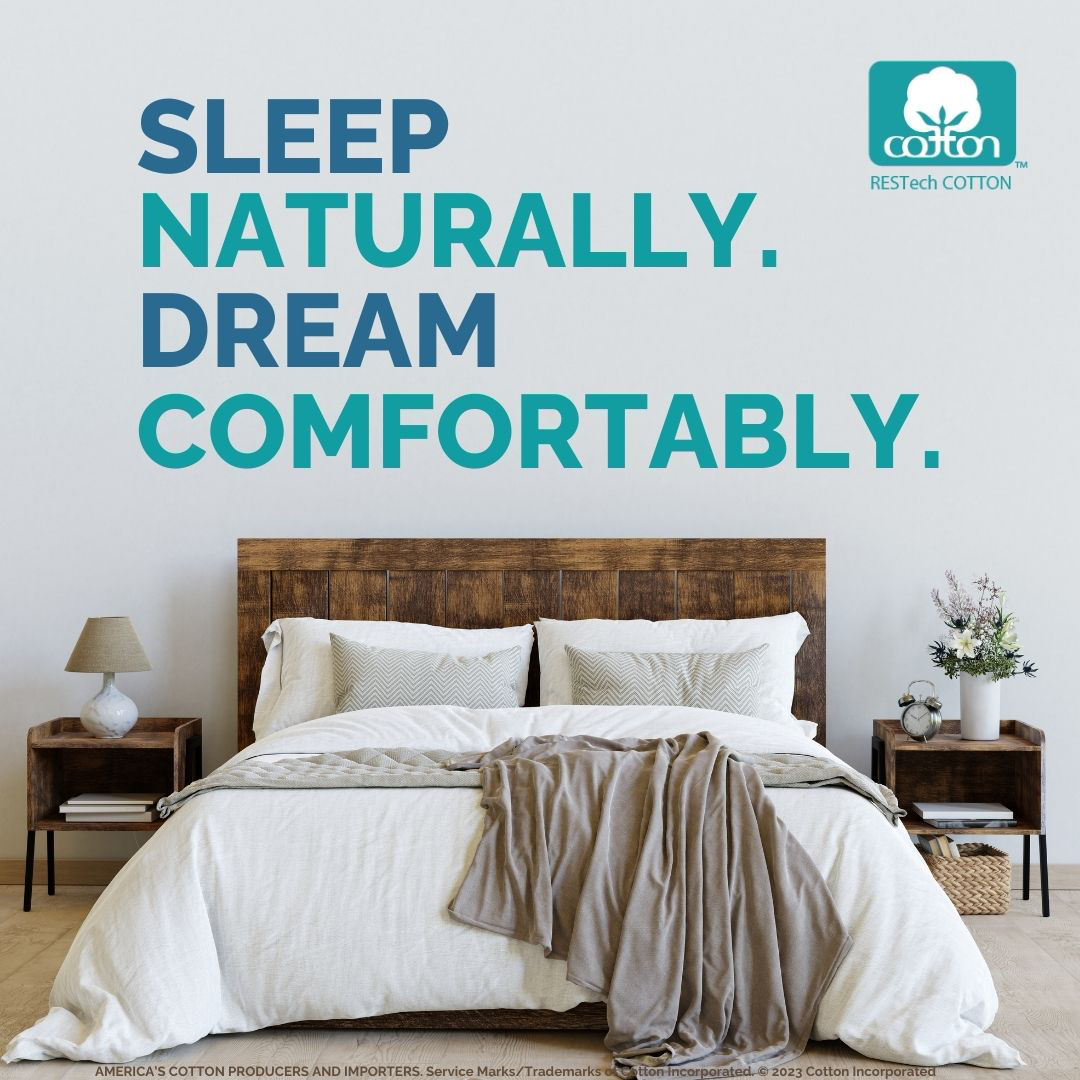 Cary, N.C. (September 6, 2023) – Cotton Incorporated introduces RESTech COTTON™ technology, a performance sheeting solution that blends cool comfort, exceptional durability, gentle softness, and a focus on sustainability. By merging innovative design with advanced chemistry, RESTech COTTON™ technology not only takes a significant step forward in cotton bedding, but also addresses key challenges like durability, moisture management, and sustainability, setting a new standard for bedding expectations.
Developed to be up to 40% softer than untreated cotton sheets[1], this technology brings an enhanced sense of comfort to your sleep experience. "With our RESTech COTTON™ technology, we've captured the timeless comfort of cotton and enhanced it with modern innovation, redefining the possibilities of a good night's sleep," says Jennifer Lukowiak, director, supply chain marketing, for Cotton Incorporated. "This technology is a perfect choice for those seeking not just better sleep but a more sustainable one. It's another proud milestone in our continuous effort to promote the natural excellence of cotton."
RESTech COTTON™ technology isn't just about comfort and durability, it's also a mindful choice for the environment. Crafted from 100% natural fibers, this technology is both biodegradable[2] and recyclable[3]. It aligns with the growing consumer demand for sustainable products offering a sleep experience that is not only comfortable but also conscientious.
"RESTech COTTON™ technology takes the best attributes of cotton and cotton finishes to create a unique, durable product with non-fluorine technology," notes Hongqing (Mike) Shen, Ph.D., vice president and managing director of product development and implementation for Cotton Incorporated. "It allows sheets to hold less moisture, dry more quickly, maintains remarkable softness and comfort. This combination makes it a triple threat."
Consumer Insights Speak Volumes
When it comes to home textiles, consumers are discerning and specific in their needs. The Home Textiles Survey, conducted by Cotton Incorporated, uncovers values that can be found in RESTech COTTON™ technology. Quality is a priority for 79% of respondents when choosing sheets, and 70% actively seek the term "100% cotton." The connection between quality bedding and better sleep is acknowledged by 87%, and 71% express a genuine desire for environmentally friendly textiles. These findings reflect the values that RESTech COTTON™ technology embodies, emphasizing the alignment of comfort, quality, and sustainability with consumer preferences.
Innovation Meets Comfort
Cotton Incorporated RESTech COTTON™ technology combines innovative design and chemistry to provide:
Cool Comfort for Hot Sleepers: Enhanced moisture management and natural thermo-regulating properties of cotton, drying up to 50% faster than rayon on the skin.[4]
Built to Last: Superior durability that surpasses polyester and rayon[5], ensuring lasting quality.
Exceptional Softness: Offering a gentle touch that's up to 40% softer than untreated cotton sheets[6], transforming sleep into a luxurious experience.
Natural Comfort: Crafted from natural fibers, capturing the timeless comfort of 100% cotton without the use of plastics.
Naturally Hypoallergenic: A gentle, hypoallergenic fiber[7] suitable for those with skin sensitivities, adding to the overall comfort.
Information on RESTech COTTON™ technology will be available at the New York Home Fashion Market in September 2023, or more details found at cottonworks.com/restech-cotton.
About Cotton Incorporated:
Cotton Incorporated is the research and promotion company for upland cotton. Funded by U.S. cotton growers and importers of Upland cotton-containing products, the not-for-profit organization's mission is to increase the demand for and profitability of cotton. As a resource for the cotton industry, Cotton Incorporated conducts or oversees more than 450 research and educational projects in an average year. Research areas range from the development of agricultural and textile innovations to analyses of commodity and market data. For more information or to learn more, follow along on Facebook, Instagram, X (formerly Twitter), Pinterest, and YouTube.
About CottonWorksTM Cotton Incorporated's CottonWorks™ program serves as a key industry resource for professionals and emerging talents in the apparel and textile industry. Providing valuable insights and an extensive collection of resources, including research, informative videos, market and trend analyses, the program enhances expertise in product development, sourcing, and marketing. Explore these resources by visiting CottonWorks.
[1]
Internal Cotton Incorporated method using the Emtec TSA Softness Analyzer.
20HLTD on Sateen Sheeting.
[2]
Zambrano MC, Pawlak JJ, Daystar J, Ankeny M, Venditti RA. Impact of dyes and finishes on the aquatic biodegradability of cotton textile fibers and microfibers released on laundering clothes : Correlations between enzyme adsorption and activity and biodegradation rates. Mar Pollut Bull [Internet]. 2021;165(January):112030. Available from:
https://doi.org/10.1016/j.marpolbul.2021.112030
[3]
Cotton products are recyclable only in a few communities that have appropriate recycling facilities.
[4]
Water Retention (WR) Dry Time testing:
Modified AATCC Test Method 199
. 20HLTD on Sateen and Percale Sheeting.
[5]
Flex Abrasion testing for wovens:
ASTM D3885.
20HLTD on Sateen and Percale Sheeting.
[6]
Internal Cotton Incorporated method using the Emtec TSA Softness Analyzer.
20HLTD on Sateen and Percale Sheeting.
[7]
Cotton Incorporated 2019 clinical trials on Determination of the Irritating and Sensitizing Propensities of Mechanically Cleaned and Purified Cotton on Human Skin.