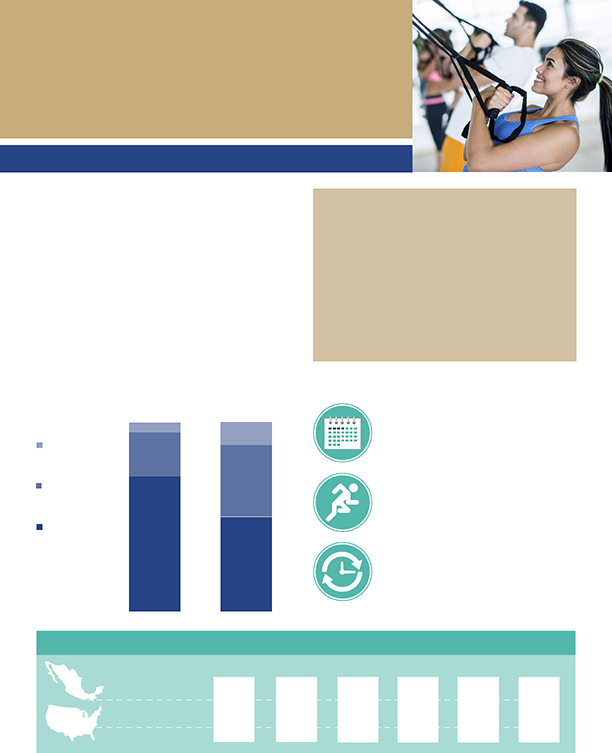 COTTON INCORPORATED
SUPPLY CHAIN
FUELING CONSUMPTION IN MEXICO'S ACTIVEWEAR MARKET
Mexico's apparel market is projected to grow 33% from
$16.6MM in 2015 to 22.1MM by 2030
1
. As a core wardrobe
element, activewear accounts for nearly 1 in 10 garments
Mexicans own. With rising obesity rates, consumers, the
government, and activewear brands are attempting to increase
exercise – ultimately boosting activewear consumption.
To succeed, brands must recognize that Mexican and U.S.
consumers differ in their athletic pursuits, acceptance of
athleisure, and brand loyalty. Opportunities exist to fuel Mexican
activewear consumption by offering separate athleisure lines,
enhancing customer engagement, and differentiating offerings
with cotton-rich performance activewear.
KEY INSIGHTS
•
Mexican consumer exercise activities are more diverse than
in the U.S., indicating their needs for multiple types of active
garments.
•
Although athleisure is now common, Mexican consumers' desire
to dress up in public creates opportunities for brands to offer
separate athleisure lines.
•
Brands who can engage customers in-store & beyond point
of sale can improve their competitiveness with loyal active
shoppers.
•
Increasing cotton performance activewear offerings allows
brands to differentiate themselves from their competitors.
ACTIVE LIFESTYLES IN MEXICO
60
4
average days a week
consumers exercise*
average minutes spent
exercising each day*
APPAREL WORN FOR EXERCISE
U.S.MEXICO
non-active
apparel
mix of active &
non-activewear
*among those who exercise
41
average number of activewear
apparel items owned**
TOP EXERCISE ACTIVITIES
cardio
weights
dancing

swimming
Mexico
United States
39%
44%
28%
43%
28%
15%
27%
27%
walking
48%
58%
running
56%
37%
activewear
71%
23%
6%
50%
38%
12%
**includes intimates, tops, bottoms & outwear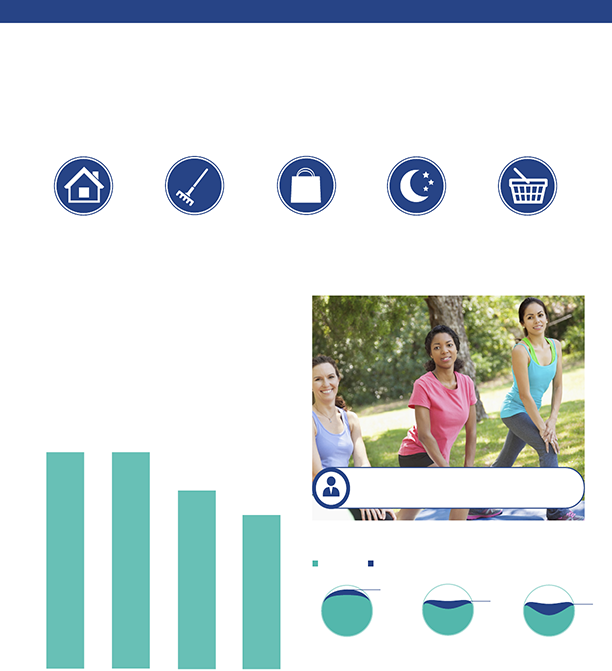 More than 8 in 10 Mexican consumers (82%) say they wear activewear for purposes other than exercise, lower than in the
U.S. (90%). Although athleisure has become common in Mexico, consumers there are more resistant to this trend and are more
likely to keep their athleisure habits at home away from the public eye. The desire to dress up in public offers activewear brands
the opportunity to develop more sophisticated athleisure lines to encourage Mexican consumers to choose their brand for both
active and casual pursuits.
PLACES MEXICAN CONSUMERS WEAR ACTIVEWEAR
52%
around the house
vs. 77% in the U.S.
39%
doing yardwork outside
vs. 54% in the U.S.
36%
shopping
vs. 40% in the U.S.
32%
sleeping
vs. 35% in the U.S.
7%
running errands
vs. 62% in the U.S.
When compared to synthetic activewear, the majority of
Mexican consumers say cotton activewear is best suited for
a light workout or athleisure activities such as hanging out
at home or running errands. Opportunities exist for brands
to capitalize on consumers' interest for cotton-rich athleisure
styles in Mexico.
COTTON ATHLEISURE
% OF MEXICAN CONSUMERS SAYING COTTON ACTIVEWEAR
IS BEST SUITED FOR...
light
workout
tough
workout
hanging out
at home
running
errands
68%
68%
56%
48%
ATHLEISURE TRENDS
wear activewear
for purposes other
than exercise
describe
athleisure as a
trend that will be
around for a while
claim activewear
is their new
casual wardrobe
44%56%82%
Among Mexicans who wear activewear beyond
exercise, 4 in 5 cite comfort as the reason.
Mexico
United States
90%
67%
61%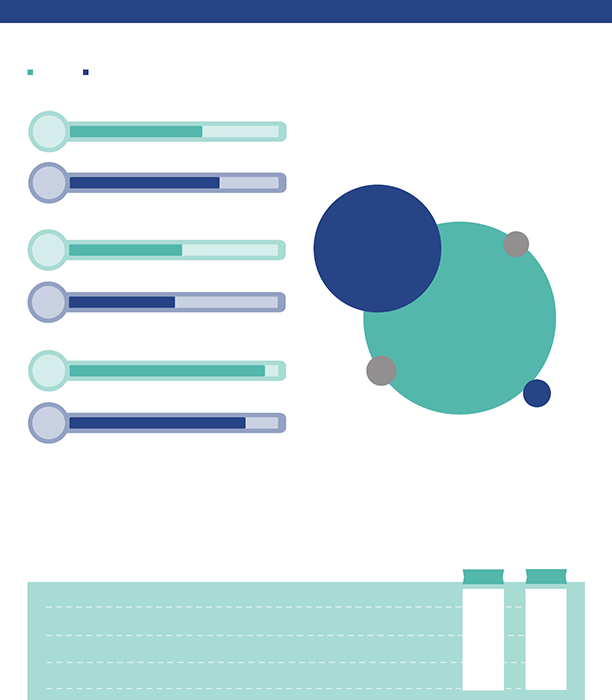 BREAKING BRAND LOYALTY
BREAKING BRAND LOYALTY
Opportunities exist for brands to increase customer engagement in store through product and sport education as well as
beyond point of sale through sponsoring active events in order to stand out in Mexico's consolidated activewear market. In fact,
the majority of Mexican consumers would be even more likely than U.S. customers to shop from an activewear brand offering
these experiences.
% LIKELY TO SHOP FOR ACTIVEWEAR FROM A BRAND THAT...
(VS. A BRAND THAT DOES NOT)
Provides
product education
on performance features or best care practices
Provides education on
how to participate
in athletic activities
Sponsors athletic events
or group exercise through a local store
Connects athletes
through events or social media
69%
57%
32%
39%
42%
54%
48%
57%
ACTIVE BRANDS PURCHASED MOST
OFTEN IN MEXICO
Brand loyalty in the Mexican activewear market is extremely
strong, with Nike and Adidas accounting for 3 in 4 activewear
brands purchased most often. Consumer desire to stick with
just a few brands and styles makes it difficult for brands new
to activewear to grow their sales and market share.
Nike
Adidas
Puma
Wilson
Reebok
64%
choose the same activewear styles
BRAND & STYLE LOYALTY
72%
54%
choose the same activewear brands
51%
94%
have a favorite activewear brand
85%
% WHO AGREE WITH THE FOLLOWING WHEN BUYING...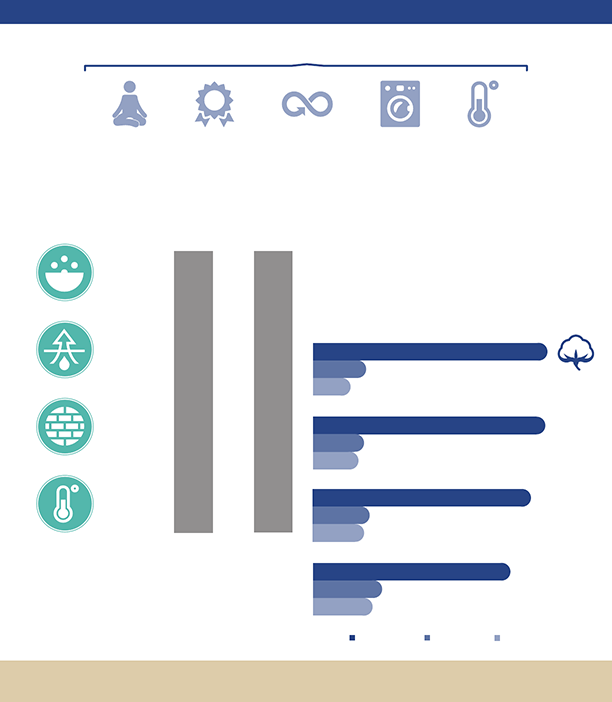 Sources:
Cotton Incorporated's 2016 Global
Lifestyle Monitor
TM
Survey – a biennial consumer research study. In the 2016 survey, approximately 10,000
consumers (i.e. 1,000 consumers in 10 countries) were surveyed. Cotton Council International (CCI) & Cotton Incorporated's 2016 Activewear Survey – consumer
research study among 4,500 men and women in the U.S., Mexico, and China. Euromonitor International
1
TOP 5 ACTIVEWEAR PURCHASE DRIVERS IN MEXICO
comfort
quality
durability
washes clean
keeps you cool
COTTON OPPORTUNITIES IN
PERFORMANCE TECHNOLOGIES IN MX
More than 3 in 5 Mexican consumers are interested in
purchasing activewear with performance technologies such
as odor resistance, moisture management, and thermal
regulation. In order to differentiate performance activewear
offerings, brands have an opportunity to incorporate cotton,
which most Mexican consumers feel is better than manmade
fibers when it comes to effective performance technologies.
odor
resistance
% shoppers
interested
in...
% shoppers
is best for...
moisture
wicking
abrasion
resistance
thermal
cooling
82%
53%
52%
78%
80%
80%
51%
45%
More than 2 in 3 Mexican consumers say they prefer
cotton-rich activewear because the majority feel cotton is best
suited to meet their primary activewear needs of comfort and
durability. In fact, 3 in 4 Mexican shoppers say they would be
more likely to shop from a brand offering activewear made
from natural fibers such as cotton.
FEELINGS TOWARDS COTTON VS.
SYNTHETIC ACTIVEWEAR IN MEXICO
comfortable
breathable
% SAYING THE FOLLOWING TYPES OF ACTIVEWEAR ARE
THE MOST...
cotton
75%
15%
10%
sustainable
74%
14%
12%
trustworthy
70%
16%
14%
63%
20%
17%