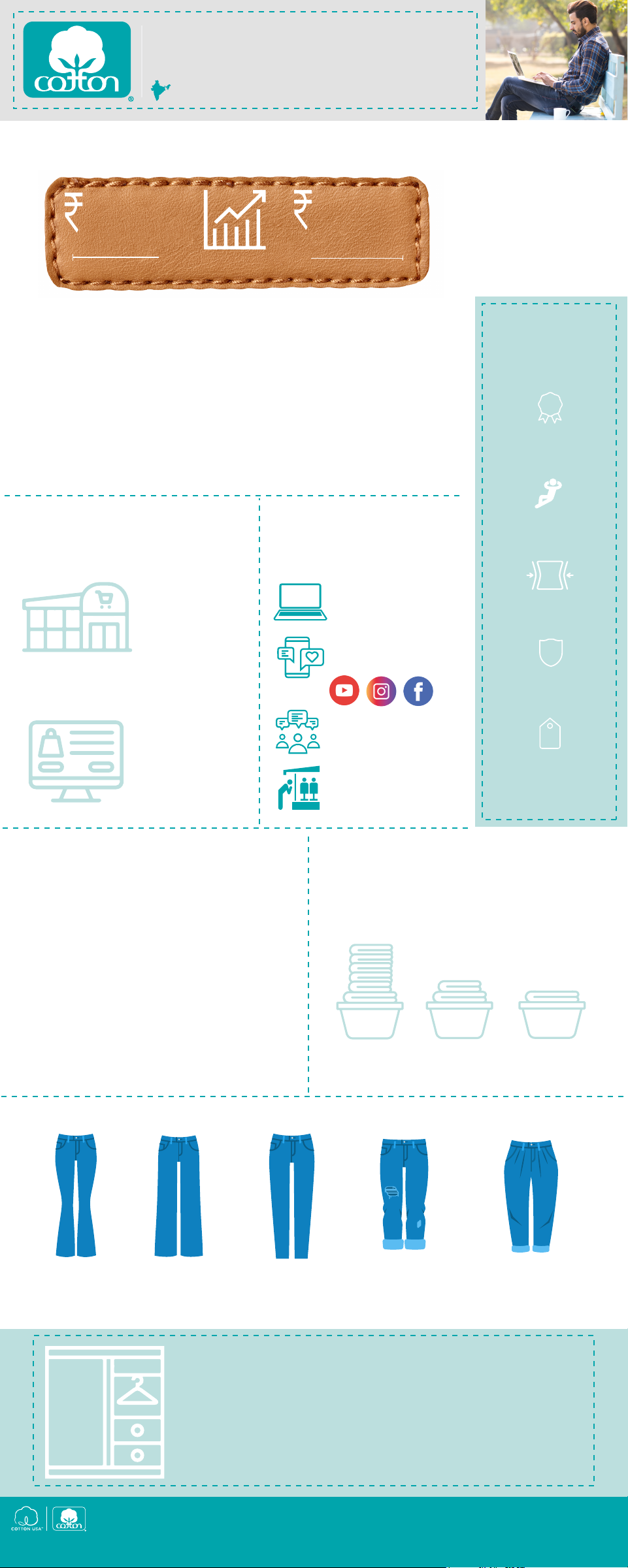 "CCI & Cotton Incorporated's 2021 Global Denim Survey" n=1,000 Indian consumers age 18-60.
*The survey was also conducted in China, France, Germany, Italy, Mexico, Netherlands, Spain, U.K., U.S.
1
Euromonitor International
AMERICA'S COTTON PRODUCERS AND IMPORTERS. Service Marks/Trademarks of Cotton Incorporated. ©2022 Cotton Incorporated.
DENIM JEANS
COTTON INCORPORATED'S
INDIA EDITION
Purchase Intention
INDIA: Planning to purchase more,
same, less denim jeans this year
Same
More*
Less
59%
29%
12%
Where do you get
inspiration for a new
pair of jeans?
Where Indian consumers
are planning to purchase
this year:
All/mostly
in-store
46%
27%
Equally in-store/online
27%
All/mostly
online
Online
In-store window
displays
Friends/Family
Social Media
*Highest
194.3
billion in 2021
405
billion in 2026
(5 year growth 108%*)
12
Size of Denim Jeans Market
1
Indians own an
average of 12 pairs
of denim jeans
*Strongest growth
Top
Purchase
Drivers
Fit
Comfort
Durability
Quality
Price
how regularly you
wear denim jeans:
Wearing these styles a lot more often than before pandemic:
81%
Favorite
wear for
Polyester
Rayon
10%
9%
Cotton
Wearing
more
68%
Wearing
the same
Wearing
less
20%
12%
Baggy/Loose
48%
Boyfriend
49%
Wide Leg
52%
Relaxed
50%
Flare
54%
Compared to manmade
fibers, jeans made with
Longest lasting
80%
Most sustainable
75%
Highest quality
75%
75%
Most safe
74%
Most breathable