Cotton Incorporated scientists and researchers work tireless to keep cotton competitive in the apparel and home textile sectors. Much of their time is dedicated to developing cotton performance technologies that do not create additional environmental burden. Take a look and discover the newest innovations in cotton and visit Shop Cotton on the FabricOfOurLives.com to find products featuring our technologies.
Technological Innovation
Cotton's natural properties can be enhanced through application of new technology innovations that reinvent cotton as a true performance fiber. Through the use of Cotton Incorporated's branded technology solutions, cotton can be engineered to manage moisture as well as or better than many top-performing synthetics, or made to repel moisture with exceptional durability over the life of the garment.
Moisture Management
Consumers prefer the comfort and softness of cotton over synthetic fibers, however cotton's natural absorbency can often be a negative in performance apparel. Through the adoption of moisture management innovations for cotton, like TransDRY® and WICKING WINDOWS™ technologies, consumers can enjoy the fast-drying and moisture-wicking performance of synthetic fabrics and the comfort and softness of natural cotton.
Water Repellent
Cotton can be treated with durable water repellent technology that adds functionality and protection from wind and water to a variety of fabric consturctions. Testing shows that the STORM COTTON™ and STORM DENIM™ technologies perform much better than typical durable water repellent technologies by maintaining an extremely high level of repellent performance over the life of the garment.
Durability
Cotton is well-known for its comfort and durability. From functional finishing to blended fabrications, cotton can deliver the ultimate performance garment that will last. In addition to Cotton Incorporated's TOUGH COTTON™ technology, Cotton Incorporated has collaborated with several fiber manufacturers to engineer fabrics with improved abrasion resistance, and improved tensile and tear strength.
Sourcing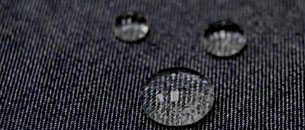 Below you can view current supplier lists for each of the Cotton Incorporated developed cotton technologies. For more information about these and other performance innovations for cotton, please contact your Supply Chain Marketing account manager in the U.S. or regional international office.