Company Timeline
2000
Cotton Incorporated moves into a new 125,000 square foot state-of-the-art research and development center and world headquarters in Cary, North Carolina. This technologically advanced complex sets the standard for all facilities of its type in the textile industry.
2001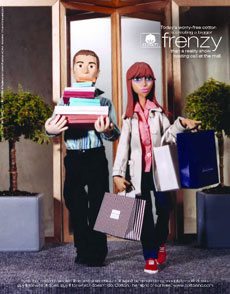 Advertising adjusts its designated target audience for television to a smaller group of cotton's key customers: women 18-34. These young women are undergoing important life changes – first job, first apartment, marriage, and first child – which represent selling opportunities for textile products.
A highly colorful new U.S. trade print campaign is introduced, which uses small lifelike dolls dressed in cotton clothing. Distinctive and dramatic, the dolls become memorable spokespersons for Cotton Incorporated. Designers are invited to dress the dolls for future ad appearances.
Fiber Management Research introduces a new Windows-based management software system for textile mills, EFS®-MILLNET32™. This client/server system enables a mill to preview, purchase and issue cotton contracts, schedule arrivals, and select cotton mixes for multiple plants using High Volume Instrument (HVI) data.
2002
Advertising introduces a new campaign in women's consumer magazines. In addition, the print ads call attention to Cotton Incorporated's new consumer Web site for women,
TheFabricOfOurLives.com
. The Web site, which is created in-house, launches in July and receives more than 500,000 hits in the first three months.
Cotton Incorporated enters into a unique relationship with Worth Global Style Network (WGSN), the world's leading online news, research and trend analysis service for the fashion and style industries. Key Cotton Incorporated research material, such as articles and analysis from the Monitor survey, are published on the subscription-only WGSN service.
Cotton Incorporated receives valuable agricultural technology from Monsanto in the form of gene promoters for cotton plants. These unique DNA elements are proven to regulate gene expression in the cotton plant at various stages of fiber development, which are critical to improving fiber quality. The Cotton Incorporated Fellowship Program is instituted. All five stellar graduate students, selected in the inaugural year of the program, are involved in cotton breeding research projects under the Cotton Breeding Initiative.
Cotton Incorporated celebrates the 20th Anniversary of its Osaka, Japan office, reconfirming its commitment to building a strong future for cotton products in Asia. In conjunction with Cotton Council International (CCI), Cotton Incorporated develops a trade and consumer marketing campaign for India called the Cotton Gold Alliance (CGA). The goal of the alliance is to increase recognition of and preference for cotton products in India. This marks the first time the Seal of Cotton has been used outside of the Americas for consumer promotions.
2003
Cotton Incorporated announces its plans to launch an e-commerce Web site,
thejoyofshopping.com
, in the first quarter of 2004.
Cotton Incorporated appoints DDB as its new advertising agency after 30 years with Ogilvy & Mather.
2004
The Textile Research and Implementation division introduces the TOUGH COTTON™ durable press technology, which paves the way for the next generation of wrinkle-resistant 100% cotton apparel.
After more than 15 years, Cotton Incorporated retires its hugely successful "The Fabric of Our Lives®" Campaign, looking instead to communicate more directly with young women 18-34 that cotton is the fashionable and fashion-forward choice for their wardrobes.
2005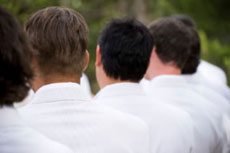 Building market share abroad becomes a key strategy, as Cotton Incorporated and CCI turn their attention to the rapidly growing Chinese consumer market, designing a promotion strategy to boost awareness of the COTTON USA® trademark.
The consumer website, TheFabricOfOurLives.com, has a banner year and attracts more than 1,000,000 visitors. Meanwhile, Retail Marketing expands an already successful partnership with Brooks Brothers to promote two key cotton product lines: the Golden Fleece Polo and the brand's seersucker collection.
2006
Hoping to connect with consumers at the university level, Strategic Alliances forms Cotton's Dirty Laundry Tour™, which educates young men and women on buying and caring for their clothing and decorating their dorm room, all in order to heighten awareness and exposure of cotton among college students.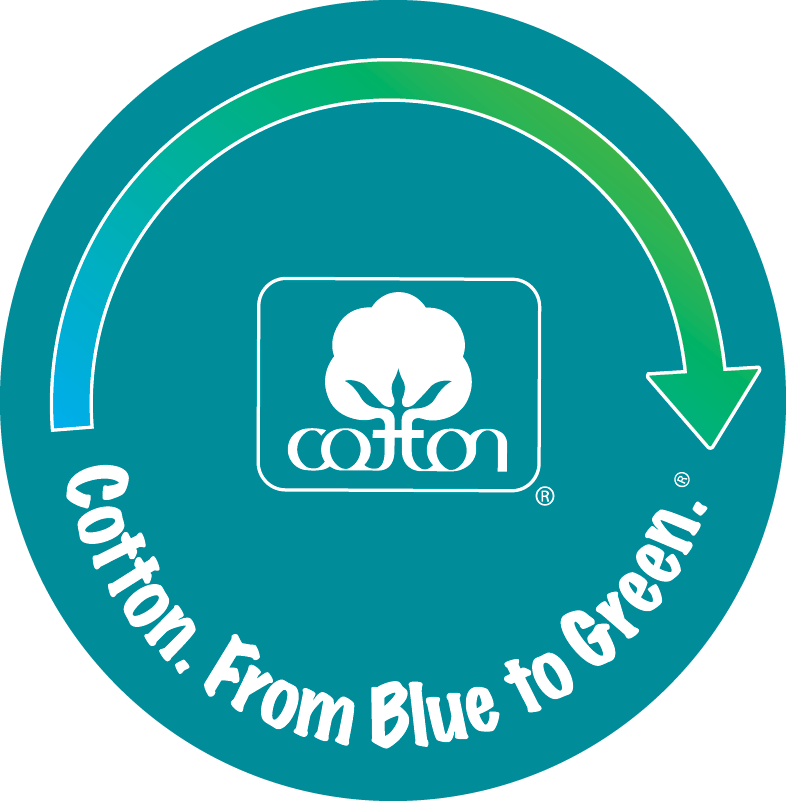 The COTTON. FROM BLUE TO GREEN.® denim drive, a call to action to donate denim and give it a "new life" by converting it into natural cotton fiber insulation, travels to 14 colleges across the nation and collects an astounding 14,566 pieces of denim, doubling the original goal. The donated denim is converted to UltraTouch™ natural cotton fiber insulation, which is installed in 12 houses for hurricane-affected families in Baton Rouge, LA.
2007
The creation of the Natural™ trademark is developed as a part of the company's larger sustainability strategy. Building on the wide recognition of the Seal of Cotton, the trademark resonated across multiple industries, ultimately being adopted by six brands for their own green marketing efforts.
Marking a first foray into social media, Public Relations launches a blog called DenimHunt.com, which taps into consumers' love of denim. As the blog is not Cotton Incorporated-branded, it captures an edgier, more fashion-forward tone, and soon attains a significant following. The COTTON. FROM BLUE TO GREEN.® denim drive now encompasses the groundbreaking collegiate mobile marketing initiative Cotton's Dirty Laundry Tour®, serving as a grassroots student-run campaign at the university level to educate college coeds about the natural, renewable and recyclable attributes of denim.
Cotton Incorporated celebrates the 10th Anniversaries of the Beijing and Shanghai offices, and hosts a two-day Global Denim Event in Shanghai, underscoring China's importance to the denim segment and the country's growing textile industry.
2009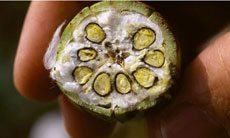 Research scientists at Texas AgriLife at Texas A&M University further their study of ultra-low gossypol cottonseed in research funded by Cotton Incorporated. Five generations of cottonseed that generated ultra-low gossypol in the seed and enhanced levels in the leaves had been successfully grown in greenhouses, and is successfully repeated in a true cotton-growing environment in the field.
Public Relations launches two new Web sites to better communicate company strategy: CottonToday, which launches in May, serves as an engaging vehicle to consolidate the company's Sustainability efforts along the entire supply chain, while CottonLifestyleMonitor.com, which launches in December, reduces communication operating costs by taking the Lifestyle Monitor™ Magazine online, and provides easy access to research data of interest to the industry and the media.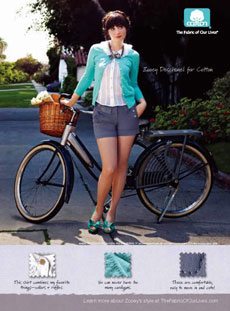 Working with DDB, Advertising re-launches "The Fabric of Our Lives®" campaign with a twist, looking to capitalize on strong brand awareness and recognition. The new campaign features up-and-coming vocalists Zooey Deschanel, Jazmine Sullivan, and Miranda Lambert recording their own interpretation of the popular lyrics, "the touch, the feel of cotton, the fabric of our lives."
The COTTON. FROM BLUE TO GREEN.® denim drive gets a revamped Web site, www.cottonfrombluetogreen.org, which replaces AccessCotton.com as the online vehicle for the company's celebrated denim recycling program.