Company Timeline
1990
Cotton Incorporated introduces COTTECH® technical conferences that are targeted to technical managers, designers and quality assurance staffs in the textile industry.
1993
Wrinkle-resistant slacks dominate the market with the first introduction by Haggar, followed by Levi Strauss.
A pioneering marketing partnership is forged with Procter & Gamble to display the Seal of Cotton trademark for the first time on non-textile products: Cheer, Tide and Ivory Snow.
1994
The Lifestyle Monitor™ Survey, a broad-based, ongoing research program designed to capture consumers' attitudes towards shopping, fashion, appearance, fiber preference, denim and home furnishings, makes its debut.
1996
Cotton Incorporated introduces the Engineered Knit Program, which enables manufacturers to evaluate performance of dyehouse equipment in order to predict how a particular knitting specification performs in terms of shrinkage, fabric weight and width. By eliminating the trial and error involved in shrinkage control, the system reduces production costs and improves product quality.
Cotton Incorporated opens its Mexico City office. In addition, a consumer-targeted advertising campaign is unveiled in Mexico that focuses on six distinct product categories: denim, underwear, women's wear, casual apparel, and sheets and towels.
Two new Cotton Incorporated trademarks are introduced: CARPET BLEND® and RUG BLEND®. The two trademarks represent a key element of Cotton Incorporated's aim to increase cotton's share in the floor coverings market.
1997
Cotton Incorporated opens its Shanghai, China, office. Mills, manufacturers, and retailers throughout China, who use U.S. cotton, now have access to the various technical, information and fashion services that Cotton Incorporated provides. More than 250 officials and executives representing all facets of China's textile industry attend the official Shanghai office opening.
Weekly stories using Lifestyle Monitor™ data appear in Women's Wear Daily.
1998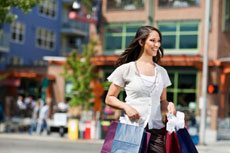 EasiFlo™ Cottonseed, a patented process developed by Cotton Incorporated, is made available to dairy feed formulators. By coating the hairy cottonseed with starch, handling is improved.
Cotton Incorporated launches a new trademark, ABSORBLEND™. This selling tool is licensed to appear on disposable diapers, feminine hygiene products and all-purpose wipes that contain a minimum of 60% cotton and/or cotton linters.
Cotton market share at retail for apparel and home products hits 60% in 1998. This marks the first time, since synthetic fibers were introduced in the mid-1960s, that cotton has enjoyed such a dominant position.
1999
Cotton Incorporated reorganizes and re-engineers its U.S. Marketing Department. Now called Consumer Marketing, the department includes Retail Marketing, Fashion Marketing, Advertising and Marketing Communications.
Cotton Incorporated reorganizes its growing International Marketing division, renaming it Global Product Marketing. The new division reflects a focus on international marketing efforts that deal with the development of cotton products. Global Product Marketing also works on product marketing initiatives with mills, manufacturers and product specifiers in the United States.