The Classification of Cotton
Maintaining Official Standards for Classification
To maintain the integrity of the USDA classification system, official standards and standardized procedures have been developed and used throughout the progression of the classification system. Official standards are maintained and provided by the Cotton and Tobacco Program's Standardization and Engineering Division. USDA maintains two basic types of standards for cotton classification: grade standards and instrument standards. For information on purchasing cotton classification standards, contact USDA at cotton.standards@nullams.usda.gov.
Grade Standards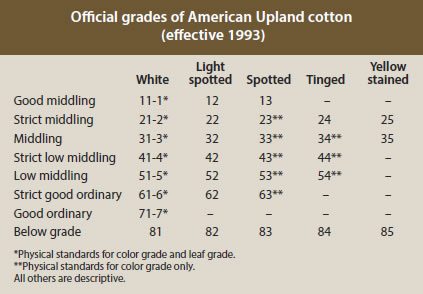 Grade standards are used for manual classification. They specify levels of color and leaf for various grade designations. USDA maintains two types of grade standards: Universal Upland Grade Standards and American Pima Grade Standards. USDA's American Upland cotton standards are referred to as "Universal" standards because they have been adopted by a special governing body and are recognized and used internationally.
USDA has twenty-five official color grades for American Upland cotton and five categories of below-grade color, as shown in the table below. USDA maintains fifteen physical grade standards for American Upland cotton. Seven of the White color grade standards also serve as official leaf grade standards for American Upland cotton. The remaining grades are descriptive.
For the classification of American Pima cotton, USDA has six official grades for color and leaf, all of which are represented by physical standards. There is also a descriptive standard for cotton that is below grade for color or leaf.
Both Universal Upland and American Pima Grade Standards are valid for only one year, because of gradual changes in color as cotton ages. Grade standards for both American Upland and American Pima cotton are reviewed periodically to ensure that they are still representative of the U.S. crop. If at some point all segments of the U.S. cotton industry agree that the standards are no longer representative of the crop, special measures must be taken to review and amend the standards.

Instrument Standards
Instrument standards are cottons used for instrument calibration and verification. These standards include Universal HVI Calibration cotton, Extra-Long Staple (ELS) Calibration cotton, Universal HVI Micronaire Calibration cotton, and Universal HVI Cotton Color and Cotton Trash Standards. These standards serve the USDA and most cotton organizations worldwide as the basis for instrument cotton classification.
Cotton selected for use in instrument calibration must pass rigorous screening procedures. As a first step, USDA conducts an extensive search in the National Database for uniform lots of cotton from the current crop that have fiber properties appropriate for their intended use. Candidate bales are purchased from producers and retested through a rigorous value-establishment process to determine whether they meet the strict certification requirements set for calibration cotton.
Establishing Values for Calibration Cotton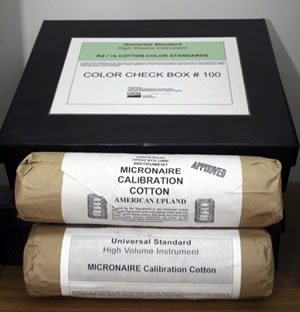 In addition to bale uniformity requirements, each bale must meet the length and strength criteria for its intended use. For example, an Upland long/strong calibration cotton bale must have approximate length and strength values of 1.15 to 1.22 inches and 32 to 36 grams per tex, while an Upland short/weak calibration cotton bale must have length and strength values below 1.01 inches and 23 to 26 grams per tex.
Currently, seven laboratories work together to establish values for calibration cottons, including five USDA facilities, one independent laboratory in the U.S. research community, and one well-established international laboratory. The independent U.S. and international laboratories are required to operate under the same rigid specifications as USDA facilities to participate in the value-establishment process.
Cumulatively, the laboratories perform at least 120 tests per bale over a two-day testing period. The results are used to further evaluate uniformity and to determine the values assigned to the calibration cottons. For reference purposes, samples of previously established, or "benchmark," calibration cottons are included in the testing, along with samples from candidate bales. These benchmark cottons provide reference points to assure the continuity of testing levels over time. If test results within a bale are outside of the prescribed limits, the bale is rejected. If all testing criteria are met, the bale is accepted, and its contents are packaged for distribution as calibration cotton.